To spread awareness about all inequalities girl children face in the society, the Government of India and the Ministry of Women and Child Development, on January 24, 2008, decided to celebrate the day as the National Girl Child Day.
The central government even launched a scheme 'Beti Bachao, Beti Padhao' with an initial funding of Rs 100 crore to generate awareness and improve the efficiency of welfare services intended for girls in India.
But, in reality, a girl child is seen as a burden in many parts of the country. Right from her birth, she faces discrimination, oppression and humiliation at every stage of her life. Her right to good health, education and employment is often ignored.
In Odisha, the situation of girl children is even grimmer.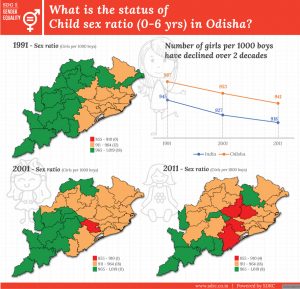 As per the 2011 Census of India, Odisha has a sex ratio of 941 girl children per thousand male children. It has worsen compared with the 2001 and 1991 survey, in which the ratio stood at 953 and 967 per 1000 male children.
Ganjam, Nayagarh, Angul, and Dhenkanal reported the worst sex ratio of 855-910 girl child per thousand male children. Only eight districts – Rayagada, Malkanigiri, Gajapati, Koraput, Nabarangpur, Nuapada, Boudh, and Kendujhar – recorded a ratio of 965-1019 girl children to 1000 male population.
Even though as a society we face a daunting task to give girl children the equal opportunities to grow, girl children are striving with their best of abilities and potential. For inspiration, we also have several role models such as Susmita Mohanty, co-founder of India's first private space start-up Earth2Orbit, Dutte Chand, the fastest female sprinters in India, and Shelbi Mishra, the first junior pilot of Odisha in Air Asia.
On the auspicious occasion of the National Girl Child Day, let us pledge to always work towards the safety and development of girl child.