Did you know that more than 1.45 lakh tonnes of fruits and 4-5 lakh tonnes of vegetables go waste in Odisha every year?
Cold storages play a key role in increasing the production of fruits and vegetables. They extend shelf life of produce, maintain quality, prevent oversupply, reduce transport bottlenecks, and period of marketing during the peak period.
Odisha, being a producer of a wide array of fruits and vegetables round the year, witnesses a lot of them go waste.
As per a survey on post-harvest losses by Indian Council of Agricultural Research (ICAR) in 2015, Odisha sees over 1.45 lakh tonnes fruits and more than 4-5 lakh tonnes of vegetables perish every year!
Does that mean that we don't have enough cold storages?
As per Assembly Answers 2018, there are 127 cold storages in 30 districts, out of which 79 are defunct. Although each district average about 4 cold storages, the distribution is quite uneven.
Three districts have the highest concentration of cold storages. Khorda has 23 facilities (the highest in the state) of which 16 are defunct. Cuttack has 11 of its 16 units obsolete, while 10 out of 13 in Puri aren't not working. These three districts account for 29.1% defunct cold storages.
As many as eight districts – Debagarh, Kalahandi, Kendrapara, Malkanigiri, Nabarangapur, Nuapada, Nayagarh, and Subarnapur – don't have any.
Seven districts – Gajapati, Dhenkanal, Jagatsinghpur, Kendujhar, Bargarh, Boudh, and Kandhamal – have 20 cold storages in total, with an available capacity of 41040 MT. All of them are lying defunct. As much as 39.7% of total capacity of 365225 MT is defunct in the state.
What can be done to improve the situation?
Most of the districts with no cold storage are among the leading producers of perishable commodities. Production capacity in each of them needs to be assessed and adequate numbers of storage facilities must be built.
The defunct facilities must be restored and used to their optimal capacities.
Some districts like Angul, Rayagada, Bhadrak, Ganjam, Jharsuguda and Jajpur have abysmally low facilities. Steps need to be taken to increase those.
Cold storages should be customized to store the specific horticultural crops each district produces. While Kandhamal is a major turmeric producer, Kendujhar is a key tomato producer. So, they should have the facilities to store their respective harvest.
Private players should be encouraged to build facilities and incentivized to carry on their operations during tough times.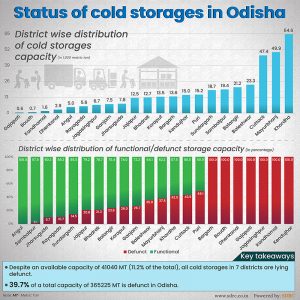 Download Snapshot-1,  Snapshot-2