Odisha is blessed with abundant natural resources, coastline, and biodiversity. However, its biggest asset is its youth population.
The population of Odisha in 2020 is about 4.7 crore out of which 1.7 Crore are youth in the age group 14-34 years. This is a demographic dividend for the state and holds promise to propel the state into a higher growth orbit.
It also brings with it a challenge as out of the 1.7 crore youth, 60 lakhs are in NEET (Not in Employment Education or Training) category. They require skill training to be employable and enterprising. Even the ones who are working, the majority are engaged in the informal and unorganised sector. As per a survey conducted by the Centre for Monitoring Indian Economy (CMIE), Odisha's unemployment rate stood at 9.6% in May 2020.
The COVID-19 pandemic has changed the way we work. To stay relevant, we will need to skill, re-skill, and up-skill. Skill development will be crucial for a resilient youth and workforce. This year's theme of the World Youth Skills Day on July 15 is 'Skills for a Resilient Youth in the Era of COVID-19 and Beyond.'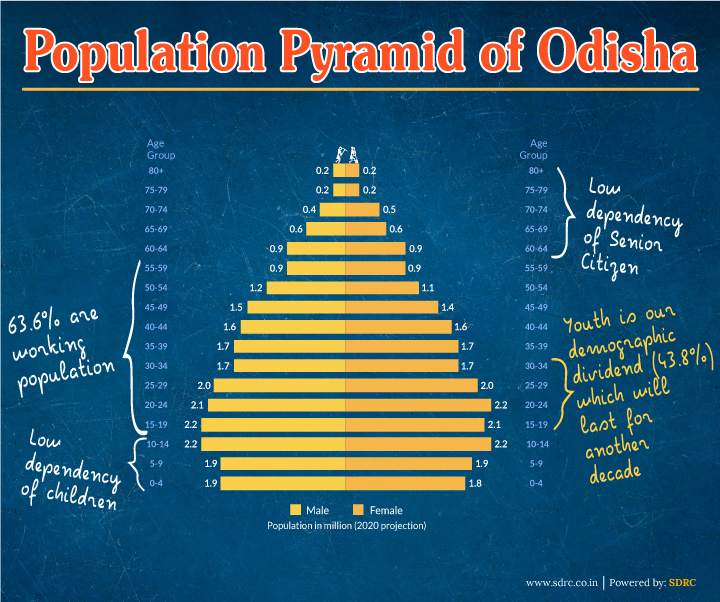 Various Skill Training Programs and Schemes for Youth
The government has launched several schemes to impart skill training and development to the youth population. Some of them are:
Pradhan Mantri Kaushal Vikas Yojana (PMKVY): Launched on July 16, 2015, this flagship scheme of the Ministry of Skill Development & Entrepreneurship (MSDE) aims to impart industry-relevant skill training to 1 crore youth between 2016 and 2020. An allocation of Rs. 12,000 crores has been made for the period and the entire training and assessment fees will be borne by the government. The dashboard of the PMKVY official website shows more than 73 lakh candidates have been trained under the scheme.
Odisha Chief Minister's Employment Generation Programme (CMEGP): The state government created the program in 2014-15 fiscal with a target to provide skill training to about 11 lakh youths within five years of its launch. It has since trained 1.2 million youths in over 2160 institutes across the state.
Skills Acquisition and Knowledge Awareness for Livelihood (SANKALP): The central government launched the scheme on July 15, 2015 and invested Rs 4000 crore to impart market relevant skill training to 350 million youths across India. The prime objectives of the scheme are to create convergence among skill training activities, improve quality of skill development programs, develop a strong monitoring and evaluation system for training programs, and provide skill training opportunities to disadvantaged sections.
Skills Strengthening for Industrial Value Enhancement Scheme (STRIVE): In November 2016, the Expenditure Finance Committee (EFC) approved the World Bank-assisted central sector scheme for a total cost of Rs. 2200 crore. The scheme aims to improve the efficiency and relevance of skills training provided through Industrial Training Institutes (ITIs). It covers four result areas – improved performance of ITIs; enhanced state government capacities to support ITIs and apprenticeship training; improved teaching and learning; and widened apprenticeship training.
Deen Dayal Upadhyaya Grameen Kaushalya Yojana (DDU-GKY): The Ministry of Rural Development (MoRD) launched this skilling and placement initiative on September 25, 2014 to diversify the incomes of poor rural households and cater to the career aspirations of rural youth. Under it, a corpus of Rs 1,500 crore is aimed at enhancing the employability of rural youth, in the age group of 15–35 years, from poor families.
Green Skill Development Programme: On May 15, 2018, the Union Environment Ministry , Forest and Climate Change (MoEF&CC) launched the Green Skill Development Programme (GSDP) with an aim to train more than 5.5 lakh workers in the country's environment and forest sectors. The scheme trained 80,000 people during 2018-19, about 2 lakhs during 2019-20, and targets to cover 5 lakhs by 2021.
Entrepreneurship Development Programme (EDP): The scheme, provided to the beneficiaries of Prime Minister's Employment Generation Programme (PMEGP), trains youth to develop skills required for entrepreneurship. The scheme does this through Khadi and Village Industries Commission (KVIC), Rural Development and Self Employment Training Institutes (RSETIs), and national level Entrepreneurship Development Institutes (EDIs).
Financial Assistance for Skill Training of Persons with Disabilities: The scheme aims to provide financial assistance for skill training for people with disabilities. It reserves 30% of total intake for women candidates and operates through training institutions recognised by MSDE.
SDRC and Skill Training
To cater to the need of Odisha's skill development, SDRC entered into a strategic partnership with Management & Entrepreneurship and Professional Skills Council. With the collaboration, we aim to improve the employability of the state's youth and spur their entrepreneurial spirit.
SDRC contributed to the Skill India mission through the 'Skill Saathi' program by sensitizing and counselling 1,08,568 youths on available pathways and linking them to Skill India portal. Covering 30 districts, 139 blocks and 10 urban local bodies, we conducted 539 sessions and mobilized Skill Saathis in 86 blocks. The highlight was the 'Nua Odisha – Dharmapada Dialogue' where live interaction with 8,000 youths was organized in 50 locations on a single day.
SDRC also undertook a skill-gap study of Mangalajodi using a combination of quantitative and qualitative techniques involving a 360-degree view of the skill ecosystem – the beneficiaries, the industry, the training providers, as well as government.
Skilling the youths and making them employable is among the prime agendas of the SDG target 4.4 – increase in the number of youth and adults who have relevant skills. Right skilling and ensuring that they are job-ready will meet the SDGs 4 and 8 – quality education and decent work and economic growth.